Dash Pro LED Light
Model 11.8700
The smaller profile of the Dash Pro LED Light maximizes limited dash space while its 80 high-intensity LEDs create an incredibly bright display that attracts the attention of motorists and pedestrians.
The durable plastic housing comes with a scoop that protects your eyes from windshield flashback.
Long-lasting, high-intensity LEDs are available in split arrays of amber, blue, green, red and white.
An internal flasher produces seven selectable flash patterns. The built-in pattern memory recalls the last pattern used.
Flash pattern indicator LEDs and POWER and MODE soft-touch switches are located on the back of the lighthead housing.
Every Dash Pro LED Light comes with a 10' straight power cord with a fused adapter plug. An assortment of mounting accessories is also included with each light: windshield bracket, bail-mount bracket, Velcro disks for surface mounting and flashback shield.
12 Volt / 5 year warranty
Made in the U.S.A.
Specifications

| | | |
| --- | --- | --- |
| Model | Amps | Dimensions |
| 11.8700 | 1.0A | 1-3/4" H x 6-1/4" D x 5-7/8" L |
Suggested Retail Price
Suggested retail price
11.8700
Dash Pro LED Light
$ 403.74
Parts and Accessories
Suggested Retail Price
11.1825
Headliner Bracket
$ 23.80
90.6487
Bail Bracket
$ 11.58
90.6488
Windshield Bracket
$ 15.10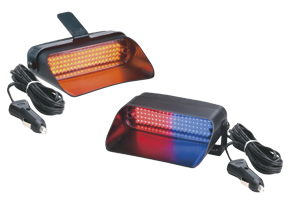 Click on thumbnail image to open enlarged view.
Flash Patterns

| | |
| --- | --- |
| 1. | Double Alternating Flash |
| 2. | Quad Alternating Flash |
| 3. | Quint Alternating Flash |
| 4. | MEGA Alternating Flash |
| 5. | Double Simultaneous Flash |
| 6. | Quad Simultaneous Flash |
| 7. | Random |
Instructions

| | | |
| --- | --- | --- |
| 11.8700 | Dash Pro LED Light | View PDF |